As some of you know, Mary Lee and I owned and operated a garden center at the North Oregon Coast for nearly 30 years. One of our "perennial" issues was the pricing of groups of items such as succulents, ground covers, annuals, basket stuffers, perennials and others. We couldn't, or at least didn't want to price each plant. We tried posting on available wall space, hanging signs from the rafters, we put neat laser printed signs out in benches and in blocks but customers often didn't see them. It seemed that they were always asking"'How much are these petunias in trays?" etc., etc. and we would politely tell them rather than embarrass them by pointing out the sign right under their noses. The signs looked something like this –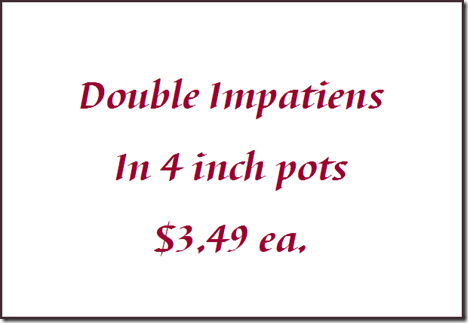 Very neat. Very blah. Easy to miss. Who could blame the customer?
Signs printed with Gardenware work great for describing and picturing a variety but not for groups of items.
In the late 90's we tried an experiment. We made special price signs featuring a background photo collage of typical plants within the group and overlaid a freeform "blotch" for pricing information. It was amazing how quickly the customers trained themselves and easily spotted the price signs. We used them liberally and they were very effective. We have passed this idea along to others and those who have used it agree that these signs are very effective. The customers just look for the weird blotch. They look like this.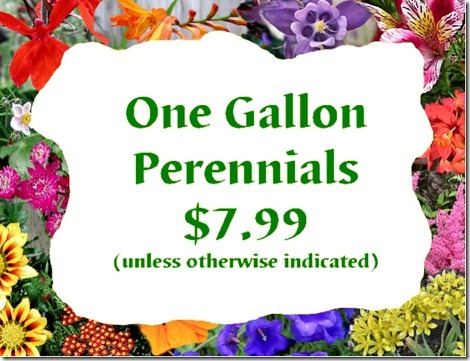 Really jumps out at you doesn't it?
If you would like to see if your customers can train themselves as quickly as ours did – We have prepared a number of these Picture Price Sign templates for your use – ABSOLUTELY FREE! They are prepared as Microsoft Word documents and set up so all you have to do is open the file click your mouse on the upper center of the white blotch and start typing.
When you open a file this is what you see. I filled one in for you. They all come with blank blotches.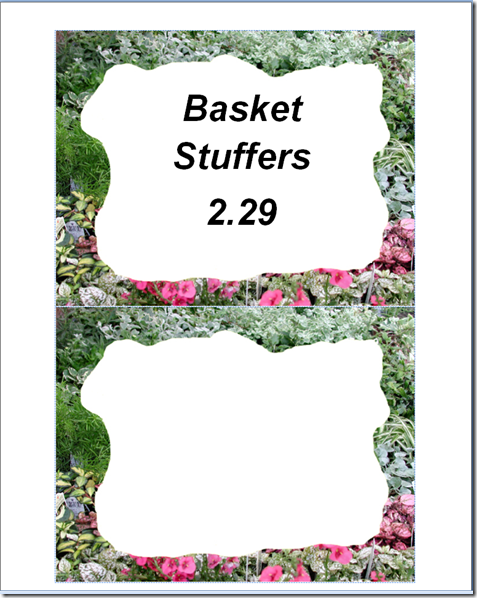 At this time we have templates for Annuals, Perennials, Basket Stuffers, New Guineas & Non Stops, Succulents, Geraniums, Double Impatiens, Single Impatiens, Daisies, Grasses, Ground Covers and Hostas.
They are available for our waterproof, weather-tough Jumbo Sign (5 x 6.5 inches) and the Poster (11 x 8.5 inches) in Landscape format. You can, of course, print them on other materials.
The files can be saved with your information for future use or you may change the text when you need to make a sign with different information than you previously entered.
They are set up so that when you open a template and click in the upper center area of the white patch a cursor will appear. You simply start typing. If you wish, you can highlight the text you type and select another font and you may underline, bold or use italics for emphasis.
To get your set, just give us a call or send us an e-mail note. We will e-mail them out to you right away. As I mentioned earlier these colorful, easy to use templates are ABSOLUTELY FREE!
503-717-9295 or info@gardenware.com