Gardenware V 10 is in final Beta testing and should be out the door in January. Here is some info to help answer questions you may have.
The operation is very similar to the current V 32, though nicely streamlined. Most of the screens are very similar but the program has been almost entirely re-written and compatible with Microsoft's most recent operating systems: XP, Vista and Windows 7 (all versions).
With this version we have moved from the Microsoft Access database module to the Microsoft SQL Server database (MSSQL), a robust widely used database with an excellent history and reputation.
What's New?
Besides being mostly re-written, the program has been streamlined so all library and label selection functions are available on one screen. It is no longer necessary to go to the library module to edit plant descriptions. The Price Line and label type selection process has also been streamlined and though it has always been easy, it is now more direct, intuitive and quicker.
We have added a new label we call the Hang Tag. It is a stand-alone label that is attached to a plant such as clematis by an elastic band or stapled to a pot. Gardenware prints the side of the label with the photo, description, price and size info and bar-code. You may use a publishing program to print the other side with company info, planting instructions, both or ??? … even leave it blank.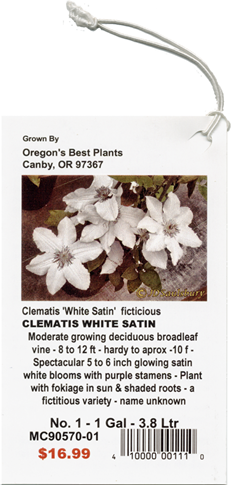 The current program includes a 1 x 1 inch adhesive label we call the Mini Bar-Code Patch. We set it up originally as a half sheet (5.5 x 8.5 in) to make it easier to handle and easy to remove the smaller labels. Unfortunately, most users had problems getting their printers to deal with the half-sheet. We have re-formatted the label as full sheets that are perforated into quarter sheets for easy handling. They go through most any laser printer without any problem.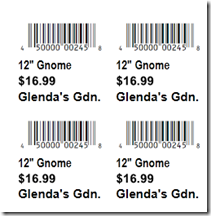 The Gardenware Complete package is networkable! If you are set up on a network, your network administrator or consultant can set Gardenware up as a networked program so it may be used by multiple users at the same time. There is a charge for each additional user.
We prepared 4 short videos to introduce new features to our Beta Testers. You might wish to take a look. They were quickly put together but will give you the idea.
Library/Item Selection Functions
What are the system requirements?
V10 requires Microsoft XP (with a zippy processor and at least a gigabyte of RAM), Windows Vista or Windows 7 operating systems. It is suggested that at least 2 Gigabytes of Ram be installed (if your computer is capable, more is always better but not required by Gardenware). Re: hard disk space, on my computer with some photos and a backup, the Gardenware files take up around 430 Megabytes. As with previous versions, the Gardenware program's space requirements are relatively modest. It is your collection of associated photos that can consume large amounts of hard disk real estate.
What about all my data on V32?
When upgrading to V10, toward the end of the installation you will be asked if you wish to migrate your data from V32. This will copy the data from V32 to V10 and modify the records as needed to accommodate the new label types. This operation will leave your data intact in your current installation of V32! V32 will continue to operate until you uninstall it.
Do I need to re-attach all my pictures again?
If you are upgrading and you migrate your data, all of your photo attachments will be installed to V10 so you should have nothing to do here. However, if you have your photos stored in the GWIN32 folder (the current Gardenware folder) and you uninstall Gardenware 32, the uninstall will not uninstall or delete your photos. It will leave them right where they are. You may leave them right there and they will maintain the association with V 10. CAUTION – IF YOUR PHOTOS ARE STORED IN THE GWIN32 FOLDER, BE SURE YOU DO NOT DELETE THE FOLDER AFTER UNINSTALLING GARDENWARE 32. If you have questions re: your photo associations give us a call, we'll try to help.
Is it necessary to upgrade?
No. You don't have to upgrade. In fact if you are using an older operating system such as Windows 98 or Windows XP with a slower processor and little RAM we would recommend you stay with your current version.
Even if you have a fast computer with Vista or Windows 7 it is not necessary to upgrade. However V32 is written in Microsoft Access 97. Though it has given good service for a number of years and continues to do so, Microsoft no longer offers support for Access 97.
Why should I upgrade?
We think you'll really appreciate the streamlining of library and label selection operations – and the Price Line Selection functions.
V10 offers the new Hang Tag and the re-formatted Mini Bar-Code patch.
V10 works with the Windows Vista and Windows 7 operating systems with no special settings.
The capability to network Gardenware is now available in the Complete package.
I really would like to buy and use Gardenware but my computer is old and money is tight. I don't want to buy a new computer right now. Do I have any options?
Yes! We will continue to offer V32 Essentials for new customers who have older equipment. The price to a new user will be the same for either version.
OK – what will it cost to upgrade?
To upgrade from V 32 Essentials to the new V 10 Essentials is $69. To upgrade from the Full version to Gardenware Complete is $129. Additional network licenses are $89. Please call for information on upgrading from versions earlier than 32.93.
Regarding the V10 installation:
Like previous versions the installation is mostly automatic. You will need to provide a little input as with previous versions. The installation instructions should preclude any questions. However because we are installing the new MSSQL Database, this first installation will take longer. Depending on the speed of your computer plan on 25 to 45 minutes. Future upgrades/updates should be much quicker as the database module will already be in place.
As usual, if you have any questions or comments give us a call, send an e-mail or leave a comment.