As most of you users and prospective users know, you may attach an image to each or any item in your Gardenware libraries for printing on signs or the new Hang Tag in Version 10. The process is easy. We have prepared a short video tutorial. Just click HERE.
The images can come from a number of sources. CDs such as Horticopia® (they approve the use), scanned images, images from the internet, images supplied by growers or producers such as Proven Winners, Walters Gardens, etc. and, we think the best source – your digital camera!
Gardenware can display and print images saved as .jpg (jpeg), .bmp (bitmap) or .gif (jiff) files. The jpeg format allows progressive compression of images and is by far the most widely used for storing and retrieving photos. We recommend that you use jpeg images. The same image saved as a bitmap file will be considerably larger than saved as a jpeg image. The gif format is not recommended for photos as it is limited to 256 colors.
Some people find working with images tedious, boring or even difficult but I thoroughly enjoy seeing an image that is OK become an image that 'pops' in a few easily learned steps. Take the following image of a simple dianthus for example…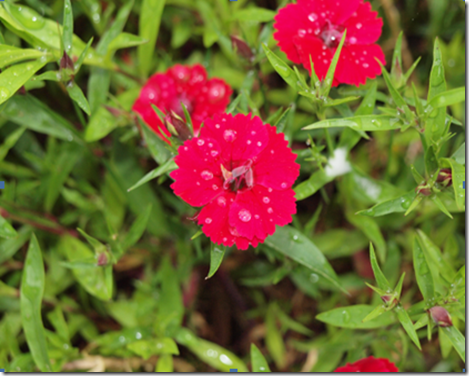 With a decent photo editing program and a few minutes, that image can look much more appealing and be sized for the most effective use by Gardenware – when you have learned the procedures.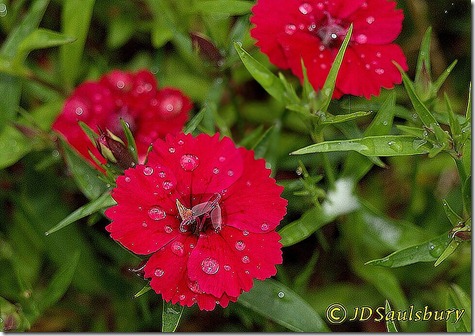 Once you have an image on your computer there are several things you may wish to do to make it more useful with Gardenware and more appealing to your customers.
– First , be sure to make a copy of the original and do your image manipulation on the copy. Always be sure to protect any original image you consider worth saving. If you somehow mess up and end up with something you don't like, it is always easy to make another copy of the original and start again.
– Crop it to show only the desired part of the image, the plant or flower and possibly to conform as close as possible to width/height ratio used for Gardenware signs.
– Resize the image for optimal use and speedy printing.
– Do some repair or editing such as a fixing a worm hole in a flower petal or other editing to make the presentation you wish your customers to see.
– Make adjustments to color, contrast or tonal range, and sharpness.
Of course, you can't do any of these things without a photo editing program. If you don't already use one, there are quite a few photo editing programs available. They do, generally, the same things but some do more than others and some do way more than anyone but an image professional would need.
Adobe publishes the widely used and very favorably reviewed Photoshop Elements (usually under $100). They also publish the full blown professional Photoshop CS5 (in the $600 range). Adobe offers a download and free 30 day trial. Costco and many others sell Elements. http://www.adobe.com/products/
Corel publishes Paint Shop Pro, a program I have used for years that sells in the $60 – $80 (or less) range. It is a very complete program and does some neat things more easily (for me, at least) than Photoshop (which does other things I like). Unfortunately, I have experienced frequent crashes with the latest versions – even with my new Windows 7 quad core computer with lots of memory. It seems fairly slow compared to Photoshop but I still find it has its uses and is certainly reasonably priced – sometimes selling for less than $50 direct. Corel also offers a free trial period and has lots of online tutorials to help flatten the learning curve. http://www.corel.com/
Serif software offers Photo Plus. It appears to be a pretty complete package for well under $100. I haven't had a chance to use it yet but we do have it. We hold Serif in high regard. Our website was produced using their WebPlus package and all of our literature, handouts materials, price lists, etc are made using their PagePlus software. http://www.serif.com
There are also photo editors that are totally free. Some can do much of what Photoshop offers.
The Gimp (stands for GNU Image Manipulation Program). GIMP is a very complete Photo Editor that offers most of the features of Photoshop for $0.00. I have it on my computer and explored it a little. It seems as though it might have a somewhat steep learning curve but there are online tutorials and apparently a large user community for support. It has been around for quite a while and through several versions. http://www.gimp.org
Zoner Photo Studio is a photo editor produced in the Czech Republic. They offer a free 'non commercial' version that will do basic editing, tonal and color adjustments as well as excellent cropping and re-sizing tools. They also offer a couple of versions with additional features at what seem like very reasonable prices. I have the free version of Zoner on my computer and so far find it very easy to use. I really like their jpeg re-sizing utility but I did not like that Zoner immediately assigned itself as my default photo editor and placed the Zoner logo on all of my images. I had to re-set my preferences for opening photos with other programs to their previous settings – not difficult but an annoyance. Contact us if you need assistance. This shouldn't be a problem if Zoner is the only photo editor you use. http://www.zoner.com/ww-en/photo-studio-professional/features/special-graphics-tools
Paint.Net has received high praise and is another no cost editor that has received good reviews and sounds like it will do most things needed to process photos for use with Gardenware. Paint.Net is another program with a user support community. I hope to explore this one soon. http://www.getpaint.net/
You will find reviews online for all the software listed above. CNET and PC World cover most of them.
There are certainly more photo editing packages available. We haven't omitted any on purpose. We simply haven't had any experience with them. One area I haven't explored at all is the on-line photo editors.
We invite you to post comments regarding your favorite photo editor to share with other Gardenware users and prospective users.
It is my hope to explore most of the above programs, at least for their usefulness in prepping photos for use with Gardenware and be able to offer some coaching either via blog posts like this or possibly online videos. Stay tuned. If you have specific questions don't hesitate to give us a call or send an e-mail. If we can help, we certainly will.