If you use Version 10 of the Gardenware program please take the time to read this.
You may have thought we forgot about you. I've missed both February and March articles. Well, we've been busy and we suspect you have too.
We do have news, however, for those of you who use Version 10. We have an update for you. Programmer, Mark, has set things up so you may download them directly from our GWSupport server. They will be available to you 24-7. There is no cost to you for these updates.
Did you notice that I used the plural? There are actually two downloads. There is a new version of the Backup/Restore utility program as well as Gardenware Version 10.
Backup/Restore & Gardenware Support Screen The Backup/Restore Program options are expanded and more useful.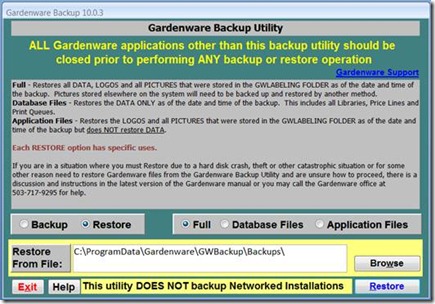 When you do a Full Backup, all of your data and all of the pictures and logos that are stored in the Gardenware Labeling folder will be backed up. If you have a lot of pictures, the backup can take quite a while but in case of a hard disk crash can be very useful. That would be a good reason to store your photos in the folders provided for you in the GWLabeling folder (pictures stored elsewhere will need to be backed up by some other method).
The second backup option, Database Files, backs up your data only. That includes all new Library entries, Price Lines and Print queues. We suggest making a Full Backup after you have added more photos than you care to do again, in case of catastrophe.
Database Files should be backed up regularly. You might consider dedicating a thumb drive to Gardenware backups and keep it off premises. We have customers who have experienced fire, theft, vandalism and lightning strikes as well as the more common hard disk crashes.
If you find that you need to restore, there are options as well and if, after reading the instructions on the screen and the HELP screen, you have any questions don't hesitate to call. Remember – if you don't backup or can't get your hands on your backup you can't restore.
There is also a new screen available in the Backup/Restore utility. In the upper right of the screen you will see Gardenware Support in a dark blue text. Click on it and the following screen will be displayed.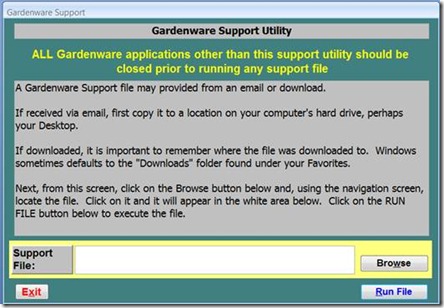 This screen is useful in locating and installing Gardenware updates and other files we might wish to make available. It will automatically unzip zipped files for you and install them where they belong.
Gardenware Labeling Version 10 update
The changes to the program are minor but they fix a few issues and add a few conveniences.
Shirley Pekosh of Peck's Green Thumb in Cedar Rapids, IA found a genuine bug. She discovered that some library items had a totally incorrect common name – a name that she didn't put there. Programmer Mark discovered that it can happen when the user clicks on the Use Customized Text feature for editing a description. If the Save and Exit button is clicked but no changes have been made to the description, the program may insert an incorrect common name. So far Shirley and Hannah with Focal Point Gardens in Arundel, ME are the only ones who have reported it. Mark squished the bug and has included a fix in the update that will prevent future occurrences. The update will also automatically scan your libraries and correct any misnamed items that you might not have caught.
I discovered that the Memorized Price Lines window was displaying Price Lines in the order of entry rather than sorting by size. This means that those of you who use this really nice new feature might end up with price lines for No. 1 containers, for example, scattered throughout the list. With the update, the Price Lines in the Memorized Price Lines window will be sorted and displayed based on the Size/Brief Description field.
You will find a new button on the label selection screen to Delete All Price Lines. I found It inconvenient to delete several lines one by one to get rid of a list of price lines that was no longer relevant.
Carol Newcomb of Northland Rosarium in Spokane, WA complained (rightly so) that when she entered a new variety to the library and clicked on Save Changes and Exit, she was returned to the plant Library List display, to the first item in the library and not at the plant she had just entered. She would then have to find the plant before she could use it. This has actually been the case since our first windows program was released. No one complained, not even me! With the update, when you enter a new plant and Save and Exit you will find your new entry is automatically the highlighted plant. Thank you Carol!
We learned that with Windows 7, Microsoft discontinued the distribution of the Arial Narrow font that we have used so widely. We have found a new font that has very similar properties of easy readability and narrow spacing to allow more words in less space for use with plant descriptions. It is called Liberation Narrow. It will automatically be installed to your computer if the update program does not find Arial Narrow already installed. It will be displayed for selection with all of your other installed fonts.
Yes, we've been busy and now it is your turn:
Here's how to download your Backup/Restore and Gardenware Labeling updates….
Because there are several Internet Browsers and many ways a user may set up the "preferences", we can't give step by step or screen by screen instructions.
All browsers provide the opportunity to Save the selected file. Internet Explorer, and possibly others, give you the opportunity to Run the selected file directly without saving it. While the option is yours, we suggest that you Save the file. You may save the files wherever you wish. If you have a folder or location where you save your dowloads, by all means use it. If you don't, saving the files to your Desktop is very convenient. The important thing is that you are able to find the dowloads after dowloading so you can install them.
Once saved, simply find the file and click on the filename to install.
Google Chrome automatically saves the files to it's History folder but provides a small window at the bottom left of the screen showing the downoad status. When downloaded, simply click on the filename in the window to install.
ISSUES
Gardenware is not a well known name to browsers like Internet Explorer, Google Chrome, Mozilla Firefox and others. It is also not a well known name to security systems such as Microsoft's, Norton, Kaspersky, Bit Defender, etc.
When you begin your download, the browser security system will inform you that the file is of questionable safety and the publisher is unknown but you will be given the option to continue anyway. It is safe to continue.
When you begin the installation of the files, your system security will inform you that the publisher is unknown and the file may be harmful to your computer. Again, click on whatever your security system provides to "continue anyway".
Most browsers provide a dowload status indicator. Be sure the download is complete before attempting to install. Please be sure to leave your browser window (and the specific tab, if applicable) open during the download, or you may terminate it prematurely.
When you click on a filename to initiate the download, this screen will be displayed.
A click on the Dowload Your File button will begin the dowload. The Backup/Restore update is a small file and should download in just a few minutes. The Gardenware Labeling program download will take appreciably longer.
With all of that in mind, click on the address below to download and install the update to the Backup/Restore program Version 10.0.4
https://secure.logmein.com/f?00_sQ0rwtpZOlHOkdALC4IlxoRtdtdGQ1JOaJTEElDw
Click on the address below to download and install the update to the Gardenware Labeling program. Version 10.0.10
https://secure.logmein.com/f?00_lKLcG7xuZSOG-FVf.d9OJpptgeQJASD6x7whrRbH
As mentioned previously, once the files are downloaded, find a file and double click on it. It will automatically install. Do the same for the second file.
As usual, if you have questions, give us a call or send an e-mail note.
Dennis